Apply Aloe Vera Gel On Face
by Ragleena
(Bangalore, India)
This page is one of Your Questions Answered pages. ( Greek Version
)
Is it good to apply Aloe Vera gel on my face and leave it over night, every night?
Strato's answer:
Hi Ragleena, thanks for asking. It is indeed very good to apply Aloe Vera gel on your face and leave it over night, every night and you can also apply Aloe Vera gel on your face and leave it over day, every day. As long as, the products we use are made from stabilized Aloe Vera and we follow exactly the directions for use, we have nothing to fear. Instead we have to expect great benefits for our face skin care from Aloe Vera.
Furthermore, from my experience and observation, I think that during the night is even better to apply Aloe Vera gel on face. During the night, usually we are in a steady healthful environment, we are not moving, there is not pollution or sun light and our body is relaxed. Living conditions are better at night time. Our body has not to defend from so many external threats and most of its actions are focused on self-repairing.
Generally, a small amount of Aloe Vera gel applied on our face once in the morning and once before sleeping helps the face skin regeneration. Among other healthful elements for skin, Aloe Vera contains the ideal polysaccharides, those exactly our body needs to repair our skin structure. Aloe supplies our body the "building blocks" to rebuild our skin.
Aloe Vera gel is very easy to use, because it is absorbed from our body in few seconds. This means that we apply aloe on our face and leave it. Aloe Vera lotion will penetrate all the human skin layers and reach the muscles and even the bones. These amazing properties of Aloe Vera, make it able to fight the root of several skin problems and to supply our body with the necessary elements the right time at the right place.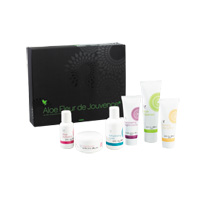 Forever Living Products has developed a special Aloe Vera cream for the night, the Recovering Night Creme which is a primary component of the Aloe Fleur de Jouvence collection.
It contains polysaccharides and other skin humectants, which form a protective barrier against moisture loss. Natural lipids for the important oil/water balance are provided by wheat germ glycerides, apricot kernel oil and jojoba oil.
Soluble collagen and hydrolyzed elastin are incorporated for maintaining good skin structure and reducing line and wrinkle appearance to help combat signs of aging. Special skin enhancers, derived from our plant and bee product extracts, are also included.
The moisturizers in Recovering Night Creme give life to the look and feel of your skin. It is designed for night use to condition the skin while the body rests, helping to restore the "Flower of Youth" – skin that is youthful in its appearance, pliable, smooth and taut.
It is a superior, velvety cream that restores fullness to even the finest wrinkle lines, keeping the skin supple, while helping maintain elasticity and moisture.
Velvety, rich night cream
Contains vitamins A, C & E, plus Provitamin B5
Added lipids protect and aid in replenishing skin while we sleep
Joy and Health,
Strato - AloeveraChangeslives
---
Keep reading:
---